UAE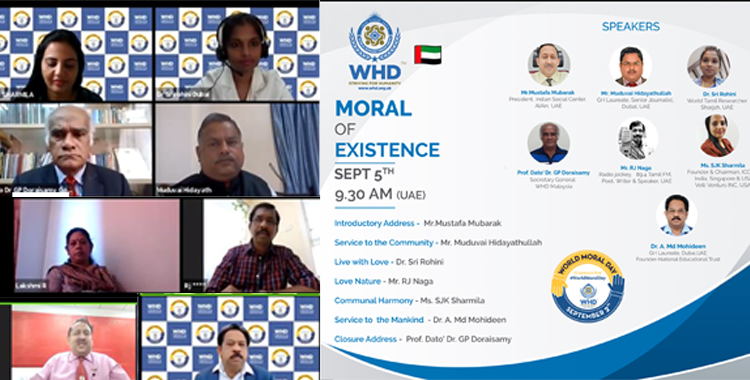 5th Sept 2020
Moral of Existence
Dubai, UAE
September 5th Dubai, UAE, - "Moral of Existence" On September 5th, on account of "World Moral Day" campaign, a seminar titled "Moral of Existence" was virtually conducted from the United Arab Emirates.
A total of seven renowned speakers presented various topics about Morals and it's dependencies in relation with our daily existence.
Speakers as journalist Mudhuvai Hidayathullah, presented his views about Services to Community;language researcher Sri Rohini, spoke about living with love; RJ Naga insisted on Loving Nature and SJK Sharmila spoke about communal harmony.
This event was put together to signify, everything from love, nature, language and community needs to be based on morality to lead a happy life. The event was intended to remind people that an Individuals right conscience will support in claiming morality on all grounds as it drives people to act morally even when it is not at their interest.
The program began with the introductory address from Mr.Mustafa Mubarak and ended with a closure address from the Secretary General of WHD Malaysia Prof Dato Dr GP Doraisamy with a huge hope that a Moral Order will soon exist in this universe with the efforts taken like WHD.